[align=center">

Week 1 – 8 July 2005
On the 8th of July 2005, Strangely Ironic ventured forth into Onyxia's Lair to test their strength against the legendary dragon. For most, this would be their first journey into Onyxia. For a few, it would be their first real outing with SI as an end-game raid.
[align=center">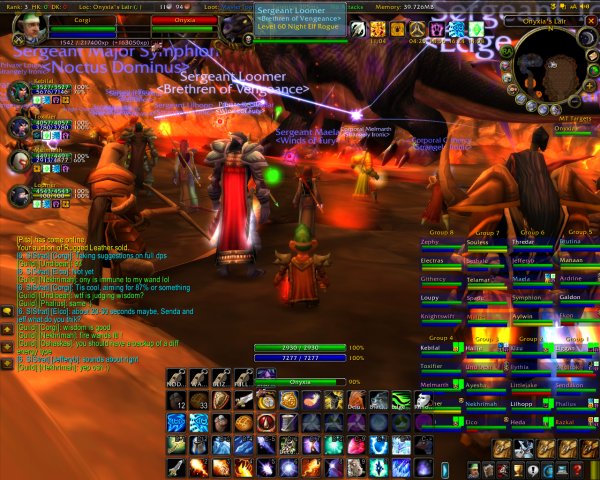 After long winded typing of directions and a quick adoption of the guild to adhere to NO DPS calls, our best effort was 53%. By all accounts, it was an excellent start to our Onyxia campaign – Stage 1 where many guilds have failed before us, was a cakewalk.
Strangely, out of all else – we avoided multiple deep breaths.
Week 2 – 15 July 2005
Buoyed by our 53% attempt, we came back Week 2. The group overall felt (in terms of dps/healing) a bit weaker than the first, but nonetheless we had a few new people attend. In general, our attempt was as good as the first week – however the whelp cleanup crew stuggled a bit to keep them away from the healers. 59% or similar was our average for this week, with our first foray into the 20% Phase 3 mark with half the raid gone.
[align=center">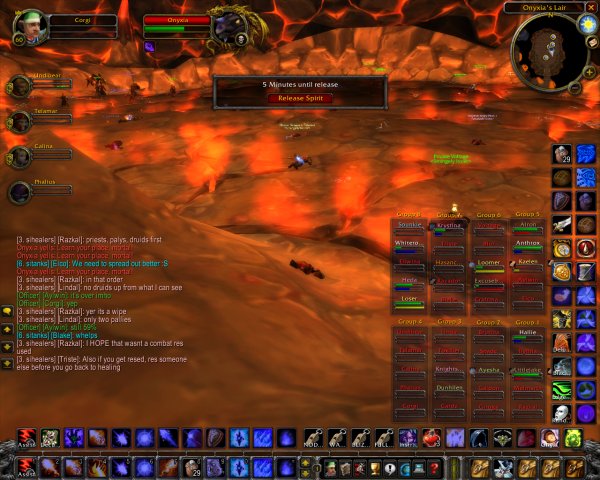 Importantly, everyone remembered things from the week before and didn't make any major mistakes.
Week 3 – 22 July 2005
We slipped a bit here. I've always put this one down to just one of those bad days at the office. We managed to get Onyxia into Stage 3 again, but it was literally a 38% wipe.
Week 4 – 29 July 2005
It was on this week that the majority of players felt Onyxia was achievable. Much banter was carried forth onto the forums about ways we could enhance our strategy. This was further enthused by our successes in the Molten Core.
[align=center">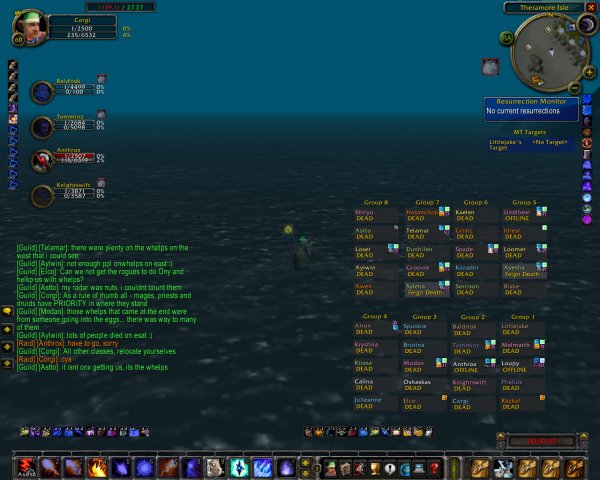 We managed to get Onyxia to 10%, despite all our efforts to try for single digits. Again, we had quite a few people dead and this effort was truly tremendous. We managed to maintain the Run ,2 Money Win, and didn't quite recover after this.
Week 5 – 5 August 2005
In terms of success, it wasn't there. But, the single most important thing that was taken out of this day was that we managed to get Onyxia to 40% on each run with a minimal amount of fuss. Still had some issues with the fear. Little did we know the week that was to approach.
[align=center">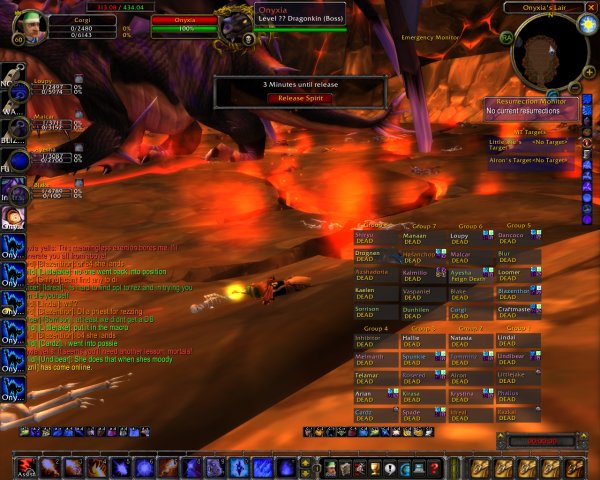 Week 6 – 12 August 2005
The weekend before we'd taken our watershed moment in beating Magmadar, Gehennas and Garr. We probably took a lot of encouragement from this into our battle with the angry dragon.
Not quite sure the percentages leading up to it, but we did have this one. Pretty heartbreaking, but boy did we know she was a sitting duck ready for the slaughter.
[align=center">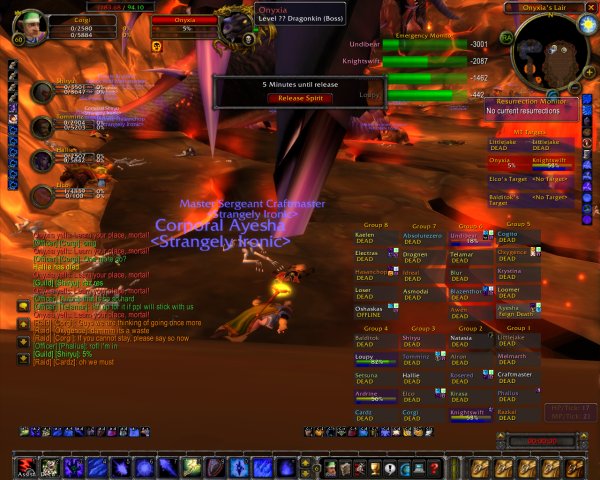 With some afk, some reinforcements and a will to succeed, we did it!
[u">VICTORY![/u">
[align=center">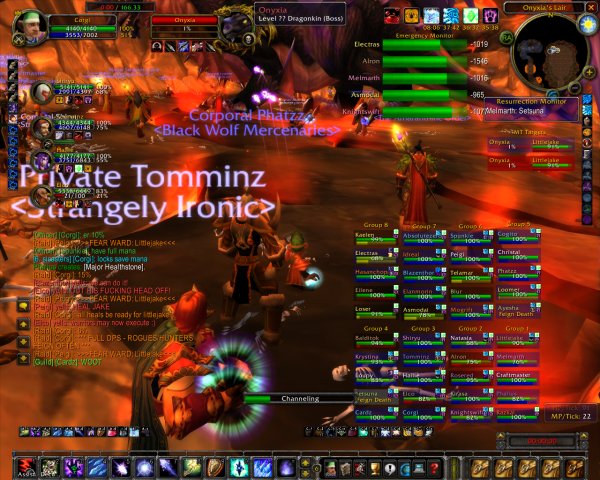 [align=center">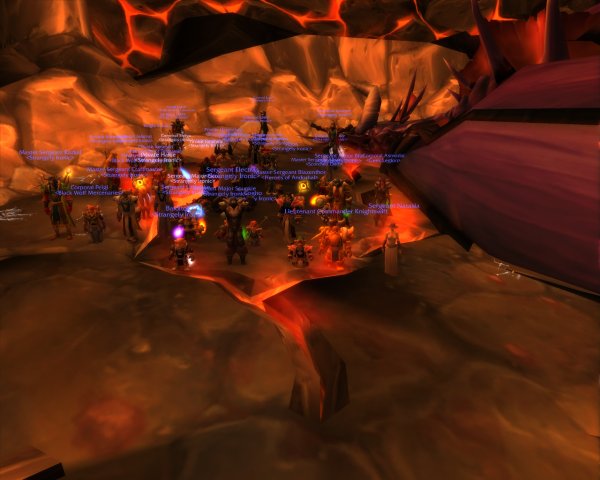 [align=center">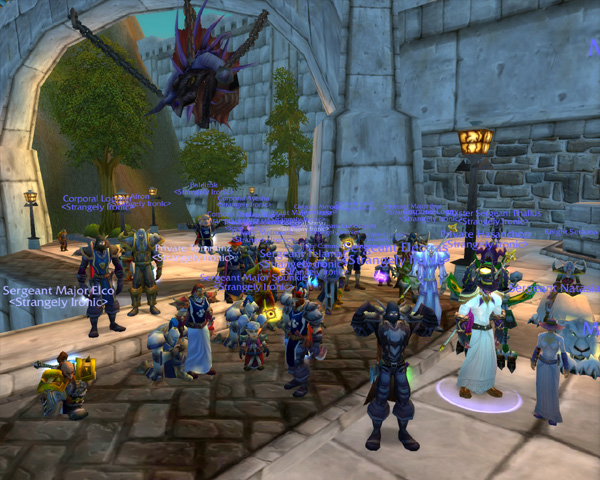 Officially, we would like to congratulate our guildmates and associates who have achieved great things by defeating Onyxia. We pride ourselves on being a fun, casual guild with members of all types. This kill typifies that even casual guilds can have fun or die trying.
[align=center">[size=18″>Congratulations Strangely Ironic!!![/size">
Strategy wise, we would like to thank Pacifist/Goon Squad for providing such a well written guide to follow. Naturally, reading a webpage or watching a video doesn't guarantee success – but we definitely based ours on the fine work by these guys. Our thanks also to guildmates and associates for refining tactics and calls for the SI Way of Lifeâ"¢