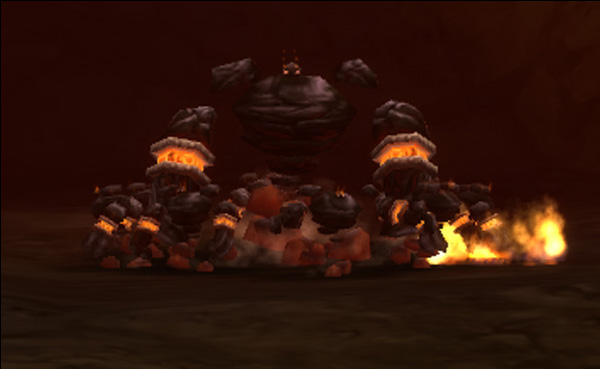 What does Garr do?
Garr is a rock elemental that has 8 guards that protect him.
Antimagic Pulse – Garr casts an area of effect pulse that removes buffs from players in the area. This does not include potions.
Magma Shackles – An area of effect that slows players, reducing their movement to 40%.
Guard Detonation – Whenever one of Garrs adds dies, they cause an area effect explosion. Melee must move out of the explosion range when the guards are about to explode. At any time, Garr can cause his guards to explode, doing an area of effect damage to any player in the vicinity of that guard.
Combat boost – Whenever one of Garrs guards die, he receives a permanent boost to his damage and attack speed. If all of his guards die, the combined boost is significant to cause problems in dealing with him.
Group Setup
Usual group setup.
The 8 guards must be crowd controlled with warlocks and warriors.
Each warrior needs a dedicated healer in their group.
Positioning & Pull
The adds are assigned to each of the warriors and warlocks by using hunters marks, and priest mind vision.
Two hunters are then assigned to pull – one on the guards, pulling them to the left and one on Garr, pulling him to the right.
The guards are tanked by the warriors (and banished by the warlocks) away from Garr. This is to prevent the guards from blowing up the MT.
The Fight
Each of the warriors guards are taken down one by one.
Once all the unbanished guards have been killed, the group turns to kill Garr, leaving the remaining guards banished.
Tanks should be constantly on the banished guards, so warlocks may re-banish them with minimal delay to prevent Garr from blowing them up.
Garr will continue shackling players to prevent movement, and removing buffs – however this must be ignored and full DPS on Garr is continued until he is dead.
Watch when you cast spells such as Renew, Rejuvenation, Evocation and Innervate – as Garr removes these buffs as well.
Once Garr is dead, you must then kill the remaining guards one by one.
From a class point of view
Druids

Group 1

Druids should be healing the MT and then their group.
Provide innervates to the priests as assigned, watch for cleansing of buffs by Garr, and do this in between.

Group 2-8:

Heal your warrior.
Once the guards are down, move up and help heal the MT.

Hunters

Guard Selection : All Hunters must mark a separate add. Ensure that you mark adjacent guards. And keep your Hunters Mark on them at all times.
Hunters are part of the DPS group. Follow the MA.

Group 3:

Peel the guards to the warriors.

Group 4:

Use distracting shot to peel Garr to the MT.

Mages

Mages are part of the DPS group. Follow the MA.

Paladins

Group 1:

Group 3-8:

Keep your party healed.
Cleanse the MA.

Buffs:

Devotion auro should be on.

Priests

Group 1:

Group 2-8:

Heal your warrior / warlock.
Once the adds are down, move up and help heal the MT and then your party.

Buffs:

All buffs should be given to all players.

Rogues

Rogues are part of the DPS group. Follow the MA.

Warlocks

Warlocks are assigned targets.
Continual banish on the guards are needed.

Warriors

Group 1:

Group 1 warrior is the MT.

Group 3-8:

You will be assigned guards to tank.
Once these guards have been killed, a warrior must then tank the banished adds.
The rest of the warriors then turn to DPS. Follow the MA.